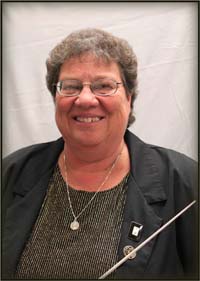 Jane A. Gouker
News
June 20, 2019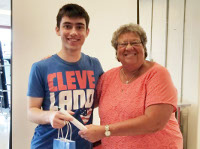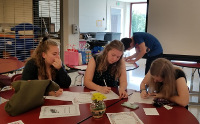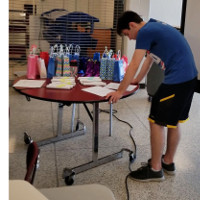 CELEBRATING SENIORS
  Congratulations to this year's high school graduates of Bloomington North and South. Thank you, Mr. Hansen, for providing Ms. G the opportunity to present HYP seniors with goodie bags welcoming them to alumni status.
Read all the
JAGE News
"
---
About the endowment
Hoosier Youth Philharmonic founder and director Jane A. Gouker is being honored with the establishment of an endowment in her name through the Community Foundation of Bloomington Monroe County.
She has taught students for the past 40 years, directing string orchestras for the youth of Monroe County Community School Corp. Those students — playing violin, viola, cello and bass — have performed in Carnegie Hall in New York City; the American Cemetery for the 65th anniversary of the D-Day invasion in Normandy, France; Kennedy Center for the Performing Arts in Washington, DC; Ryman Auditorium in Nashville, Tenn.; and Cumberland Caverns Volcano Room, where the NPR "Bluegrass Underground" musicians perform. The Hoosier Youth Philharmonic, along with Jane Gouker, was also honored during the 2012-2013 school years as the "Leading Light" program by the Franklin Initiative with the Greater Bloomington Chamber of Commerce.
The endowment will enable the strings program in the Monroe County Community School Corp. to flourish, with an elementary strings program that leads into the middle school and high school orchestras in the school system. With uncertain financial times, now is the time to ensure that there is always a financial foundation for strings programs in the Monroe County Community School Corp.
How you can help:

We invite you to help in this effort by contributing through the Community Foundation of Bloomington Monroe County. To contribute online by credit or debit card, click the button below to go to cfbmc.org . Be sure to check the button

Include this gift in the Matchstick campaign for:

and select

Hoosier Youth Philharmonic

from the drop-down menu.



DONATE NOW

Or you can send gifts to:

Community Foundation Bloomington and Monroe County

101 W. Kirkwood Ave.

Suite 321, Bloomington, IN 47401-6135

Include Hoosier Youth Philharmonic on the memo line.


Why the endowment is being established now:

The 2010 and 2016 referendums partially restored Monroe County Community School Corp. funding cut during the recession. Voters and your generosity saved the strings program.

But with financial uncertainty, future of the Hoosier Youth Philharmonic and the strings program is always in doubt. The Jane A. Gouker Endowment can help secure the future of the MCCSC strings program while honoring and preserving the legacy of HYP Director Jane A. Gouker and her 40 years of dedication to teaching students. Thanks to her efforts, HYP musicians are ambassadors for our community to our country and to the world.






Video from the Greater Bloomington Chamber of Commerce Franklin Initiative tells,
in words and music, why the Hoosier Youth Philharmonic was chosen as the 2012 Leading Light Award winner.